Power to the Patient Story | Health and Medical Interview Documentary Video Series | PART 1/2 of Interview
Guest: Shana Pereira, patient
Host: Dr. Lillie Rosenthal, an expert in pain management and lifestyle medicine
Shana, a passionate advertising professional, shares her riveting story of health struggles that started with a cancer scare. Then came kidney and heart failure, eventually leading to her heart stopping the same day she was blessed to receive a transplant.
A series of terrible news and bad events inspired her to advocate for her health and attract a caring team of medical professionals to assist her through this health journey, ultimately leading to her near-death experience (NDE), spiritual growth, and a medical miracle.
PART 1/2 of Shana Pereira's Patient Story
01:21 – Intro: Shana's Background
03:51 – Shana's naturopathic health experience growing up in Australia
06:51 – Coming to America and experiencing a different set of health rules
10:21 – Corporate lifestyle, career goals, chancing successes, personal events, and health – "Sleep when I'm dead."
18:22 – Then "something felt off," so she planned a getaway
20:05 – Tiredness set in, and then Shana was hospitalized
20:41 – Kidney failure
21:18 – Out-of-body experience and self-reflection on Christmas Eve
25:34 – Finding the right doctor
Available to MedShadow Members. Login or become a member to watch now.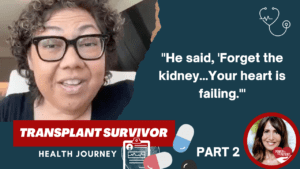 Production Team:
Garnell Bradley
Dante Steward, MBA
About Power to the Patient Podcast:
Dr. Lillie Rosenthal, an expert in pain management and lifestyle medicine, invites guests from all backgrounds to share how they made it their priority to pivot toward better health.
Producer:
MedShadow Foundation is a health and wellness journalism organization created to help protect people from the side effects of medications.
MedShadow protects lives by uncovering the hidden and minimized risks of medicines so that everyone has the ability to make truly informed decisions about the risks, benefits, and alternatives to medicines.
Visit medshadow.org for more health and wellness resources, including articles, videos, guides, and more. Prevention is better than a cure.
Learn more about heart disease, treatments, and side effects.