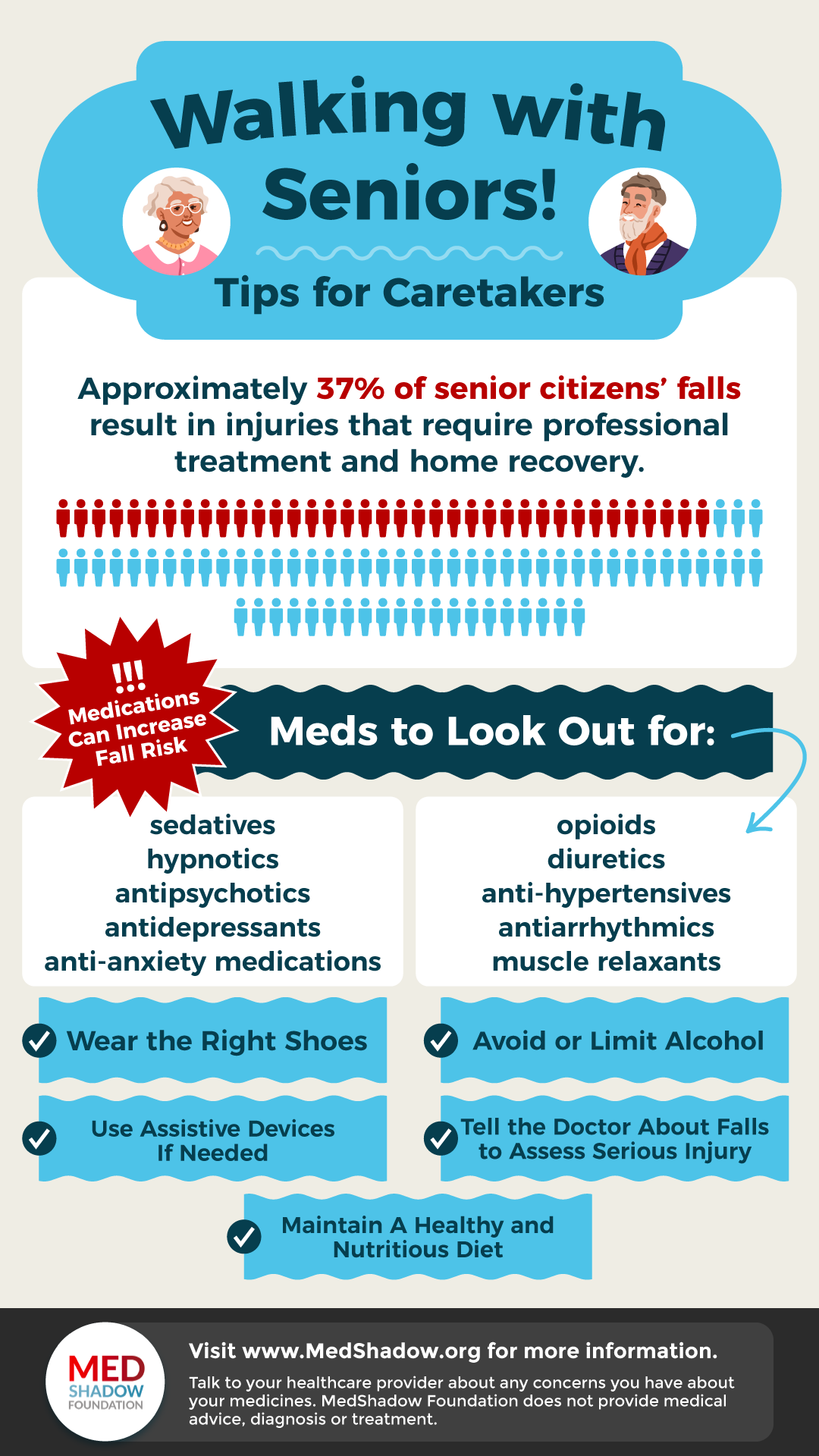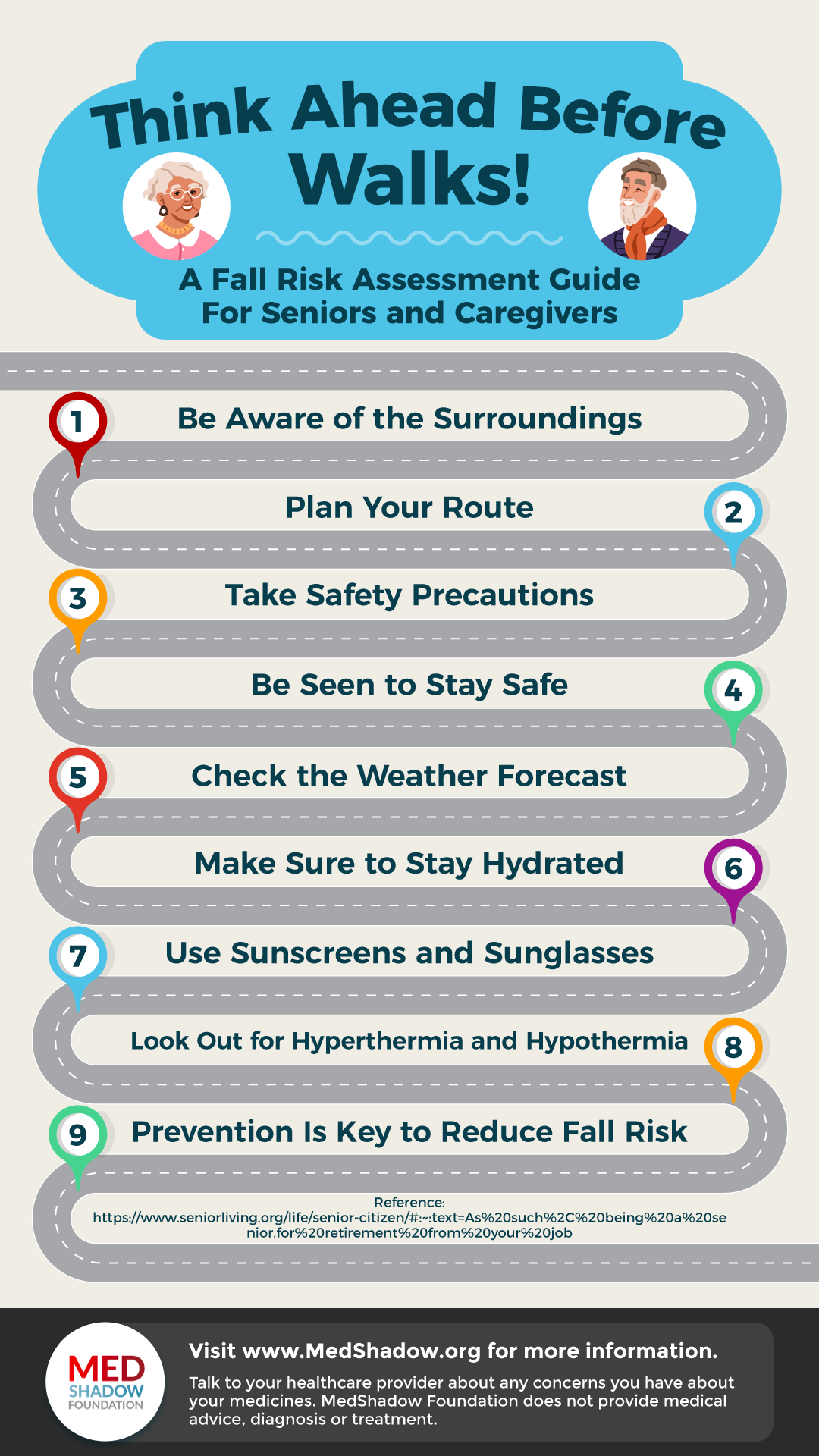 From outdoor walks, to mobility in the home, senior citizens are at a higher risk for falling each day. Walking is one of the simplest, yet most profound joys in life, yet many medications come with a side effect of falling or instability.
Going for a stroll during the day can put things into perspective, reduce stress, and provide exercise. For seniors, it can also be a chance to socialize, get fresh air, and enjoy the beauty of the outdoors. Maintaining independence in their own home is another benefit made possible with safe mobility.
But, did you know that falls are the leading cause of injuries and death from injury among older Americans? From traumatic brain injuries, to broken bones, serious complications can arise from the most basic of falls. These injuries worsen with age.
Even if you aren't planning a walk outdoors, simply maintaining mobility in the home can be a worry for loved ones as they age. Walking, in any form, can bring about a fall risk to senior citizens.
From moving around the home, to simply walking about in their day, falls come at a high cost, and not just for the injured party. Falls impact overall health and in 2014 alone, cost an estimated $31 billion in annual Medicare costs, according to a report published by the CDC's Morbidity and Mortality Weekly Report (MMWR). Total medical costs related to fall injuries topped $754 million in 2022.
As a caregiver, you want seniors to enjoy walks, but also keep them safe from falls. As simple as it sounds, walking comes with big risk factors for seniors, along with factors to consider to prevent serious injury. But that's no reason to skip the activity. Here are some tips to understand your loved one's risk of falling, and to keep them safe on their next walk, whether it is around the block, through the park, or just from the couch to the bathroom!
Medications Can Increase Fall Risk
Reports state that one senior falls every second of every day in America. Approximately 37% of senior citizens' falls result in injuries that require professional treatment and home recovery.
To protect seniors from falling, caregivers should consider the following; 
Medications That Increase Fall Risk
While some medications act as preventive measures, certain prescriptions and over-the-counter medications can increase the risk of falling. Caregivers should ask about the medical condition of seniors and what medications they are taking. Also ask if they've started any new medications recently, particularly those that might change their blood pressure or raise their risk of falling. If so, start with a very short walk in a safe space to see how their bodies are adjusting to the medication.
Understanding any previous falls the person has experienced is also crucial. Ask your healthcare provider for a history of any falls and what medications or supplements may put them at a high risk of fall injuries.
The Center for Disease Control and Prevention (CDC) recommends that seniors and caregivers watch out for certain types of medications that have been linked to falls and instability in particular. These include:
sedatives

hypnotics

anti-anxiety medications

opioids

diuretics

anti-hypertensives

antiarrhythmics

muscle relaxants
For example, anti-hypertensive medications can lead to low blood pressure levels, which may cause individuals to lose balance and fall suddenly. Antihistamines also cause drowsiness, and other medications like over-the-counter sleep aids can be risky, especially when taken with pain relievers. It's also important for caregivers to look out for medications that relieve chronic pain, such as amitriptyline which may cause numbness.
Your healthcare provider can help with tips to improve balance if these medications are a daily necessity. Even being aware of the risk factors helps to reduce the chance of falling.
Falls Can Lead to More Medications, Side Effects
Side effects of medications can include a long list of concerning symptoms, including, of course, a fall risk. Avoiding unnecessary drugs is another key way to reduce the danger. Studies show that 42% of American adults, over the age of 65, take five or more medications regularly!
Speaking to your doctor as a senior, to self-advocate, or as a caregiver on behalf of your loved one, can go a long way to decreasing unnecessary medications. Firstly, be sure your primary care physician knows all medications, including supplements and over-the-counter medications, that you are taking regularly or even infrequently. A doctor or pharmacist can review the list for drugs that may interact negatively or overlap in the drug's purpose. Read more about tapering or eliminating medications that you may no longer need here.
Falls can also lead to serious injury, or even surgery, which can lead to a need for more drugs like anesthesia and painkillers, both of which come with another battery of side effects. By reducing risks of falling, you can prevent these medication complications and side effects before they begin.
Avoid or Limit Alcohol
Alcohol is known to have several undesirable effects on the body, and these effects can increase as we age. Even if seniors consume the same amount of alcohol as they used to at younger ages, it can have a stronger effect and cause them to trip and fall as older adults. Studies have shown that senior women tolerate alcohol differently than men and are more susceptible to its effects.
Medications many seniors are on can also add to a loss of balance, vision problems, and increased fall risk. Be sure to speak with your doctor to understand any medications that may be impacted by alcohol use.
Tell Your Doctor About Falls to Assess Serious Injury
Learning about previous injuries is crucial for keeping seniors safe, whether they have a hip problem or arthritis. Such information can help plan a suitable walk for seniors with the right safety measures. It's also important to notify the doctor because they have the patient's history and can handle any situation and answer questions.
A history of hip fractures, broken bone, head injuries, or the need for physical therapy are things that are good to understand as a caregiver. These seniors are at a higher risk for repeating similar injuries, as these body parts are weakened by past trauma.
No matter how serious the fall, you need to tell your doctor about it happening. Many unseen, internal injuries, minor fractures, or bleeding can occur hidden from the untrained eye. Speak to your doctor as soon as possible if you, or a loved one, has experienced a fall.
Additionally, your doctor may be able to pinpoint the cause of your falls. However, they must be recorded and reported to maintain accuracy. 
Maintain A Healthy and Nutritious Diet
A healthy, well-balanced diet is essential for sustaining a healthy body and aging gracefully. Consuming nutritious food keeps the body energized and lowers the risk of chronic illnesses; for example, a low-sodium diet prevents developing high blood pressure. It's necessary for seniors to plan their diets to avoid malnutrition which can weaken the muscles and make the body susceptible to disease.
Low blood sugar levels can cause dizziness, a leading cause of many falls. Iron deficiencies, low levels, or even anemia also can cause a feeling of imbalance and dizziness. Having a balanced diet can prevent falls for an older adult.
Wear the Right Shoes
Shoes provide support for the body during the walk, so it is important to consider what shoes to wear when going for a walk to prevent injuries and discomfort. A shoe should provide stability and a good range of motion. Caregivers should recommend that seniors wear tight shoes at the heel and midfoot that are rounder toward the forefoot. They can also recommend wearing shoe insoles for a better fit, smooth, and more comfortable walk.
Even for daily movement, shoes such as high heels or loose-fitting sandals are especially dangerous and can cause difficulty in balance.
Use Assistive Devices if Needed
Safety is a major concern, especially when seniors are involved, as mobility becomes an issue that may require some assistance. Caregivers can inquire about the health conditions in older people and consider using assistive devices for better stability and less strain on the legs.
Caregivers can also coordinate with doctors to keep seniors safe and prevent falling. Doctors can recommend an appropriate assistive device, such as a cane, which helps support the body's weight by transferring the weight from one leg to the torso and upper body. Canes and walkers can provide security for the individual and reduce the overall risk of falls, adding balance and stability for the senior.
Think Ahead Before Walks: Fall Risk Assessment
Taking steps to prevent falls can go a long way with older adults who are at a greater risk for broken bones or serious injury. According to the Centers for Disease Control and Prevention (CDC), over 36 million falls are reported each year in older adults. Even more alarming, this past year, 32,000 deaths occurred as a result of falls alone. Helping older adults as they age with a few basic fall risk assessment checks can go a long way in ensuring their safety.
Here's how you can think ahead to prevent falls.
Be Aware of the Surroundings
Safeguarding seniors requires familiarity with the destination of a walk; studying the route and recognizing uneven surfaces is crucial for keeping seniors safe. Also, being alert and noticing any obstacles or hazards on the route will ensure safety and reduce the risk of injuries when walking outdoors.
In the home, be sure that prevention strategies are in place, such as the removal of potential hazards. Poor lighting, uneven ground, or loose rugs can greatly increase a likelihood of a fall related injury. Making your senior loved one's home safer can go a long way to prevent home hazards.
Plan Your Route
Where you plan an outdoor walk matters. In rural areas, stick to routes that have been well marked or maintained by park services to avoid slipping. In urban areas, try to use sidewalks and avoid areas with traffic. Make sure you direct seniors to use crosswalks or intersections and avoid jaywalking to prevent accidents. Wait for traffic signal signs, and once the pedestrian crossing signal is on, proceed to the road.
Older people may need assistance planning an outdoor walk. You want to be sure that they can maintain balance and that the surfaces will not be too uneven or rocky. Smooth, paved walking trails or school track circles can provide an ideal level space where older adults will feel steady.
If you are unfamiliar with the planned walking space or living arrangement, take a moment to do a risk assessment. Review the space and note any potential hazards that may cause a fall.
Take Safety Precautions
Caregivers should always be aware of emergency numbers and stay in areas with cellphone coverage. When walking with seniors, it is important to prioritize safety and follow safety regulations. Having a medical kit with you is handy. Caregivers should choose well-lit areas for clear sight and always count group numbers if traveling with companions.
Know the numbers and routes to surrounding emergency departments, in the event that you must seek the assistance of healthcare providers.
Adding safety measures to a home can also go a long way to prevent many falls. Simple installations of grab bars, for instance, can reduce slips and falls in the bathroom, which a space of higher risk of falls due to slippery surfaces and the rate of transferring weight from one foot to another.
Be Seen to Stay Safe
Staying on visible routes makes it easier for companions or caregivers to locate seniors. Wandering off alone could be risky for a senior. Firstly, it increases the odds of getting lost, and secondly, it makes it harder for rescue team members to reach individuals. Older adults should walk with a caregiver or group of friends for safety. That way, should you fall, there is assistance there immediately.
Stay on known, marked paths when walking. In primary care settings, all rooms should be well-lit and as open as possible. Increased risk of falling can be added when unnecessary rugs, furniture, or décor is added. Lower a person's risk by keeping seniors in safe environments at all times.
Check the Weather Forecast
Checking the weather forecast is important for a great day out in nature, as weather changes can present unforeseen dangers. Caregivers should check the weather forecast before heading out with older adults, and then regularly review during the walk.
Rain can make roads or paved walkways slippery, increasing the chances of falling, and a temperature drop and harsh winds can affect seniors more.
Make Sure to Stay Hydrated
Staying hydrated is important for regulating body temperature. While walking, the body burns calories and energy and starts sweating to regulate the heat from the exercise. Drinking water sustains the body and restores fluids to their natural state.
Water also lubricates the joints and aids in absorbing nutrients, not to mention other factors, such as providing energy. Signs of dehydration include tiredness, muscle cramps, and dizziness.
Being dehydrated can reduce muscle strength and can be the most common cause of falls for adults that otherwise practice forms of prevention.
Use Sunscreens and Sunglasses
Walking in the sun may be beneficial as exposure to natural sunlight creates vitamin D, which is great for bone structure. However, exposure to the sun has some risks, as UV rays can cause damage to the eyes and skin.
While encouraging physical activity with seniors is key, caregivers should recommend applying sunscreen to prevent sunburns. Sunscreen also blocks ultraviolet radiation, which acts as an agent that promotes skin cancer.
They should also encourage wearing UVA-UVB protection sunglasses to safeguard the eyes from rays that can cause dry eyes, blurry vision, and damage to the cornea and retina. Shade-providing hats, long clothing (when weather appropriate), and naturally shaded spaces can also help to avoid issue.
Look Out for Hyperthermia and Hypothermia
Although walking during the summer or in a warmer climate is safe, heat can be risky, especially for seniors. Prolonged exposure to heat can lead to heat strokes, dehydration, and hyperthermia. Checking the weather forecast for hot and humid days and learning about the best time to plan these walks is essential. It's important to remind seniors to drink fluids and wear suitable clothing with light and loose fabric.
Signs of hyperthermia include high body temperature, confusion, and a change in mental state, along with flushed skin, vomiting, and shallow breathing. Consult a healthcare provider if you are unsure why such symptoms are appearing.
Likewise, walking during colder seasons requires safety measures. The roads conditions can rapidly change, and the harsh wind can burden seniors. Cold temperatures can lead to severe health conditions like hypothermia. Signs to look for in hypothermia include shivering, sudden exhaustion, feeling very tired, confusion, and slurred speech. 
As older adults may experience these symptoms for a multitude of reasons, including as side effects to medication, it is important to speak with healthcare providers to report any sudden appearance of symptoms.
Prevention Is Key to Reduce Fall Risk
Safety is the top priority, so planning ahead is the best way to ensure a smooth and safe walk. First, caregivers can learn about the area and plan their route, checking the weather to avoid complications. They should also communicate with physicians to check for prior injuries or if the patients are on any medications that may increase the risk of falling or reduced balance.
Simple steps in home safety as we age can go a long way at preventing falling. A fall injury can be incredibly debilitating, and even fatal, for older adults. With a basic risk assessment of living spaces, planned trips or outings, and medication assessments can all reduce fall risk. From hip fractures, to head injury, there are countless risks that falling can add to a senior's life. Help prevent falling with careful planning.