Join DES Action, MedShadow Foundation to Push for Change Today
The request is simple: visit Change.org and sign the petition. One click of a button is all that is asked of you: https://chng.it/4mFSrqwGdn. Ask the United States government to restore the funding of diethylstilbestrol (DES) research and apologize for approving this drug for pregnant women. If you aren't sure what that is, or why you should care, keep reading.
What Is DES?
DES is diethylstilbestrol. That is a difficult word to even say. It is even more difficult to hear of the impacts of this medication, which was prescribed to pregnant women from 1938 to 1971. These mothers were told that they would be preventing a miscarriage or premature labors. Little did they know that the drug was not effective and, three generations later, the painful side effects would still be felt.
President and Founder of MedShadow, Suzanne Robotti, would know. She is a DES daughter herself. In fact, the impacts of DES are what prompted her to begin the MedShadow Foundation nonprofit in the first place.
She found out about just how painful the DES impacts could be, first-hand.
"When I was 13, I learned that I would not ever be able to become pregnant because of the side effects of DES," said Robotti. 
Because of the multi-generational research study conducted by the National Cancer Institute (NCI) of the National Institutes of Health (NIH), DES is now known to have potentially harmed the pregnant women prescribed DES, the fetuses exposed to it in utero, and now, even the grandchildren of DES mothers are showing indications of DES-exposure harm. 
But now, the NIH has defunded the research, effectively shutting it down just as we are beginning to see what effects an endocrine-disrupting chemical can have on humans three generations after exposure. DES Action, and its parent nonprofit, MedShadow Foundation, ask you to do your part. And all you have to do is sign your name here: https://chng.it/4mFSrqwGdn.
A DES Daughter's Battle
DES daughter, Caitlin McCarthy, age 52, of Worcester, Mass. worked tirelessly for years to draw attention to the harms of DES and to have the FDA and others in the U.S. government apologize for ever allowing this carcinogenic, endocrine-disrupting chemical to be approved for use during pregnancy. She worked closely with the offices of then U.S. Senators John Kerry and Scott Brown on obtaining an apology from the FDA for the DES drug disaster. While the FDA didn't apologize then, it did acknowledge DES as a "tragedy" in 2011 thanks to the efforts of McCarthy and the two senators from Massachusetts.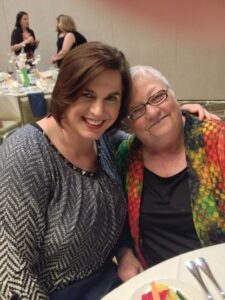 A screenwriter (whose work includes "Wonder Drug," about the DES drug disaster) and inner city high school teacher, McCarthy didn't find out until age 35 that she was a DES Daughter.
"It turns out I was exposed due to a prenatal vitamin," she said. She found out about her exposure during a colposcopy exam by her Boston-based gynecologist following unexplained precancerous cell findings. "He had dealt with DES in the past, and he knew what he was looking at. He looked up at me and asked 'What year were you born?' and that's not a question you want to hear when your feet are up in stirrups." 
McCarthy didn't think she had been exposed to DES, but thankfully, her mother had come along with her to the appointment and was in the waiting room. After some brief questioning from the doctor, they were able to deduce that DES was an ingredient of her prenatal vitamins.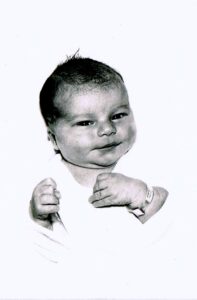 Like Robotti, McCarthy was not able to have children due to her exposure in utero.
"The issue [for me] would be, not becoming pregnant, but being able to stay pregnant due to DES damaging my cervix," said McCarthy. 
Though single at the time, with no set plans on having children, McCarthy said the news sent her "life down a different path." 
"That's why I want an apology," she said of her efforts. "You don't do this to people; you don't poison generations."
McCarthy noted that it was not just the women that took the prescribed DES medications, but their offspring, and even grandchildren, are feeling the effects.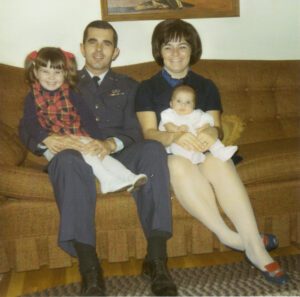 "There hasn't been enough research," said McCarthy. "Eventually science will catch up to reality. We now have a third generation starting to have issues. How can you not take responsibility? How could you deny it?"
Some may ask what an apology from the government or its entities would do now. McCarthy said that it means quite a bit to her.
"With an apology, it helps DES victims moving forward with lawsuits," said McCarthy. "Attorneys can point to that, a government that has acknowledged this."
Far more importantly to her personally, McCarthy says such a statement can do a lot of good.
"It matters. You have to go on record saying you're sorry," said McCarthy. "Apologies do matter.  We teach our children to say they are sorry, to have accountability. It is extremely important to have accountability. Shame on them!"
Additionally, McCarthy noted that such an announcement should shed more light on this troubling issue that impacts so many.
"Sunlight is the best disinfectant," she said. "An apology would be sunlight on this issue."
How Can I Help?
McCarthy is a constituent of  Rep. James P. McGovern (D-Mass., 2nd District). He listened to McCarthy's request on behalf of millions of other DES-exposed people and herself. Rep McGovern was inspired to send a letter to the U.S. Health and Human Services department requesting the restoration of the NIH research and its funding and an apology to all those impacted by the harmful drug from the U.S. Food and Drug Administration (FDA).
"When Caitlin, a DES Daughter herself, shared her story with me a few months ago, I felt moved to be helpful in any way that I could," wrote McGovern in his letter to HHS.
To support McGovern's requests to the HHS, DES Action has created a petition. You can sign the petition on the Change.org website here: https://chng.it/4mFSrqwGdn. 
"DES has negatively impacted the health of multiple generations of families over the course of several decades," wrote McGovern in his Feb. 2 letter sent to three key officials at the HHS. In addition to an FDA-issued apology, McGovern said that there is a "continued need for research, including the restoration of funding for the DES follow-up study."
DES Action USA drafted a letter of support for Rep. McGovern's HHS request. The DES Action letter was co-signed by 16 total independent, nonprofit organizations.
"We are formally requesting an apology by the FDA for its approval of diethylstilbestrol (DES) for use in pregnancy, and for the restoration of the National Institutes of Health (NIH) research funding for health and reproductive harm across generations of DES-exposed," states the letter, which supported McGovern, echoing his requests.
Why Is DES Research Important to Me?
You may be thinking "Okay, that is terrible. Some people were really hurt by some old drug. Why else should I be moved to know more?" Here's why you should care.
Endocrine Disruption
The answer is simple. Every single human on planet earth should care. Why? DES is an endocrine disruptor. It was the first to be used in humans. And DES is the ONLY chance for a multigenerational research study to understand the long-lasting effects of these harmful chemicals.
"DES was the first endocrine-disrupting chemical to be used in humans," said Kari Christianson, DES Action's representative to the NCI DES Follow-up Study Steering Committee and former DES Action Program Director. "Over the past 50 years, research has linked DES exposure to cancers, infertility, tumors, and more. The DES Follow-up Study research revealed how the effects of an endocrine-disrupting drug can continue for generations."
You can find out more about the chemicals at DESAction.org, which offers a complete history of DES and its harms. The study of DES will help to "to illuminate the dangers of endocrine disruptors and the continued need for research," said McGovern in his supportive letter.
McCarthy agreed that more research is needed to benefit all mankind.
"DES victims are not an isolated group," she said. " We are the canaries in the coal mine for the entire human population. We are all affected by hormone-mimicking or endocrine-disrupting chemicals. Everyone's got skin in this game. We are a harbinger of things to come."
Prevent Harmful Drugs from Reaching You
Another crucial focus of such petitions is to highlight the FDA's role in approving drugs like DES to the marketplace. Today, another medication called Makena is highly similar to DES is being prescribed to pregnant women. It has not been able to prove that it works, but the FDA has not removed it's approval for use in pregnancy. Robotti is working to encourage the FDA to remove Makena from the market to avoid a second DES-type tragedy. 
These, sadly, are not two random drugs that happen to cause harmful side effects. The entire mission of MedShadow Foundation is to shed light on medications just like these, how they are approved, and the harm they can cause, despite approval by the FDA.
Now also serving on the FDA's Advisory Committee on Drug Safety and Risk Management, Robotti continues to notify all that medicines can heal, help, or harm.
"I'm so excited to have a seat at the table when the FDA is deciding if a drug is safe and effective enough to approve," she said.
Work done by those like Robotti aims to tighten the approval process, making it more dependent on thorough research, extensive clinical trials, and post-approval follow-up studies to track long-term safety.
How DES Research Can Help All
Millions of people today are affected by endocrine-disrupting chemicals, including DES. Research resulting from the study can shed light on how other endocrine disrupting chemicals may harm humans.
"Unfortunately, those trying to confirm DES exposure have found that medical records going back to the mid-20th century are now nearly impossible to obtain," said Robotti of the challenges the study has faced. "We are left to examine our family's health history to look for clues, such as conditions for which DES was known to be prescribed and adverse reproductive health issues in the children and grandchildren that are associated with DES exposure."
McCarthy noted that the DES population, which was at least partially identified in earlier NIH research, could still be followed up with today.
"They were already studying it," she said of the previously active NIH research. "Look through the DES Population with the follow-up study especially. You'd have to start back at square one otherwise."
McCarthy said that the DES research studies are a rare chance to take a very long-term look at the impacts of such hormone-mimicking and endocrine-disrupting chemicals. 
Christianson agrees.
"This is why it is so important to maintain the DES Follow-up Study," said Christianson. "Participants in the study have documentation of their DES exposure, including dosage. Researchers have identified the adverse health and reproductive effects that are attributable to exposure to this powerful endocrine-disrupting drug. Such information is invaluable in understanding how all endocrine disrupting chemicals can cause human health harm."
Despite its challenges, the study is the best chance for researchers to understand the impacts of endocrine disruption for all. According to Robotti, this research is critical to:
Learn about the multigenerational impacts of endocrine disruption

Understand the health problems caused by DES and determine the appropriate healthcare for the millions living with DES exposure harms 

Deepen our understanding of how all humans are affected by endocrine disruption

Prevent future approvals of dangerous drugs
What Is the Relationship Between DES Action and MedShadow? 
Fueled by her own experiences, Robotti started MedShadow Foundation in 2013 in order to educate others about the harmful side effects of medication.
"I was harmed by DES that was given to my mother when she was pregnant with me," said Robotti. "The FDA told doctors to stop prescribing that drug to pregnant women in 1971, but between five and 10 million pregnant women had already been given it."
Soon after MedShadow's start, the Board of DES Action USA approached Robotti about taking over its member-based organization. Founded in 1978, DES Action has been the leading advocate for those exposed to this harmful drug for more than 45 years.