If you purchased any food, medicine, cosmetics or supplements from a Family Dollar store in the past 15 months, it could be contaminated. The company issued a voluntary recall on Feb. 18, 2022, after an inspection by the Food and Drug Administration (FDA) turned up more than 1,000 rats—both dead and alive—at a distribution center in Arkansas that stocks stores in several Southern states.
Family Dollar says it has yet to receive any customer complaints tied to the recall, but that it has issued a voluntary recall for foods (for both humans and pets), medicines, medical devices, supplements and cosmetics purchased at 404 stores that were stocked by the West Memphis, Arkansas, distribution center between Jan. 1, 2021 and Feb. 18, 2022.
This list displays the addresses of the 404 affected stores, which are in Alabama, Arkansas, Louisiana, Missouri, Mississippi and Tennessee.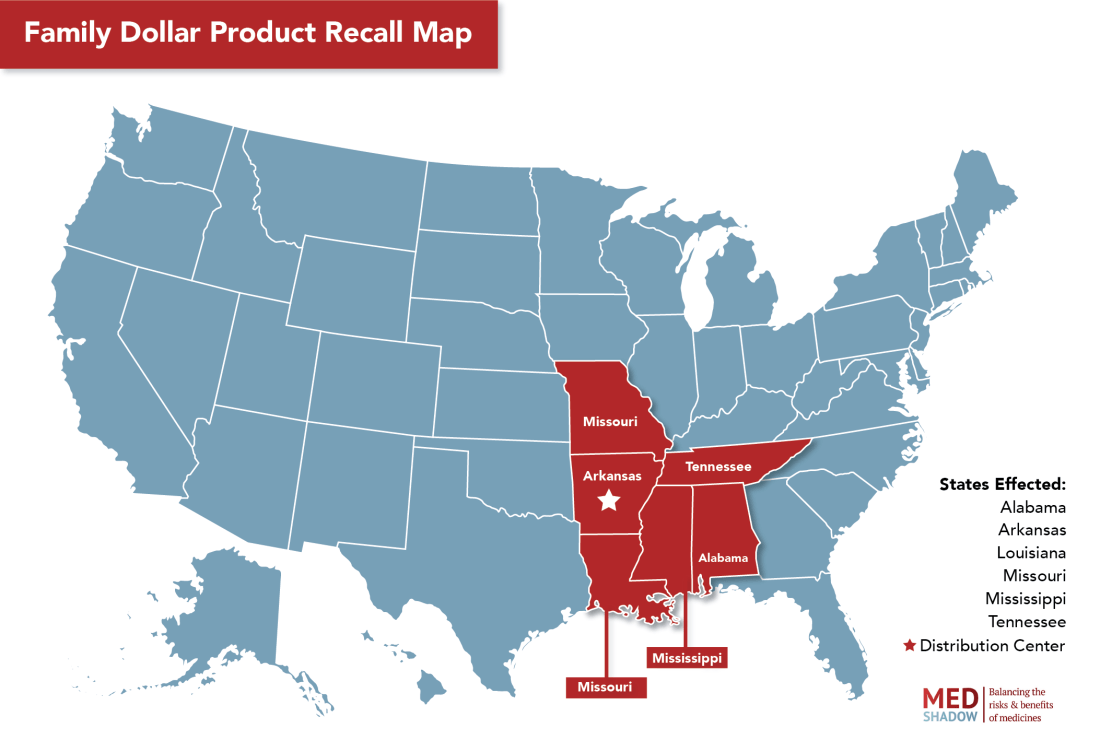 Although no customer complaints have been reported, the presence of living and dead rats at the distribution centers raises the possibility that the products could harbor the Salmonella bacteria, which can cause gastrointestinal symptoms like stomach pain, diarrhea and vomiting. While most people overcome the illness without treatment, in some cases, it can spread from the digestive tract into the bloodstream, leading to complications such as the life-threatening heart infection endocarditis. That condition is especially dangerous for those who are immunocompromised, young children and the elderly.
The FDA suggested that rats can also carry other, less common infectious diseases, such as leptospirosis, which starts with flu-like symptoms but can progress to cause brain inflammation or liver and kidney damage. 
If you experience symptoms you think may be related to a product you purchased at Family Dollar, first speak with your healthcare provider, then report them to the FDA's MedWatch Adverse Event Reporting program.  
Additionally, the FDA advises consumers to throw out any products purchased from the affected Family Dollar stores between Jan. 1, 2021 and Feb. 18, 2022, and to wash your hands thoroughly after doing so. You can call the Family Dollar customer service line for details about refunds between 9am and 5pm EDT, at (844) 636-7687.