This season, multiple MedShadow staffers have been sidelined by influenza, COVID and even strep throat. Over the past two years, experts have warned of the possibility of an influx of respiratory illnesses such as influenza cases complicating the pandemic, but flu cases remained low for both 2020 and 2021. Some experts attributed low rates of respiratory illnesses to the use of masks and social distancing to prevent the spread of COVID. Unfortunately, this year influenza cases started spiking early are still "exploding" across the country.
In a Centers for Disease Control and Prevention (CDC) media briefing on Dec 5, CDC director Rochelle Walensky said "hospitalizations for flu continue to be the highest we have seen at this time of year in a decade," adding that there have been 4500 deaths, 14 of which occurred in children.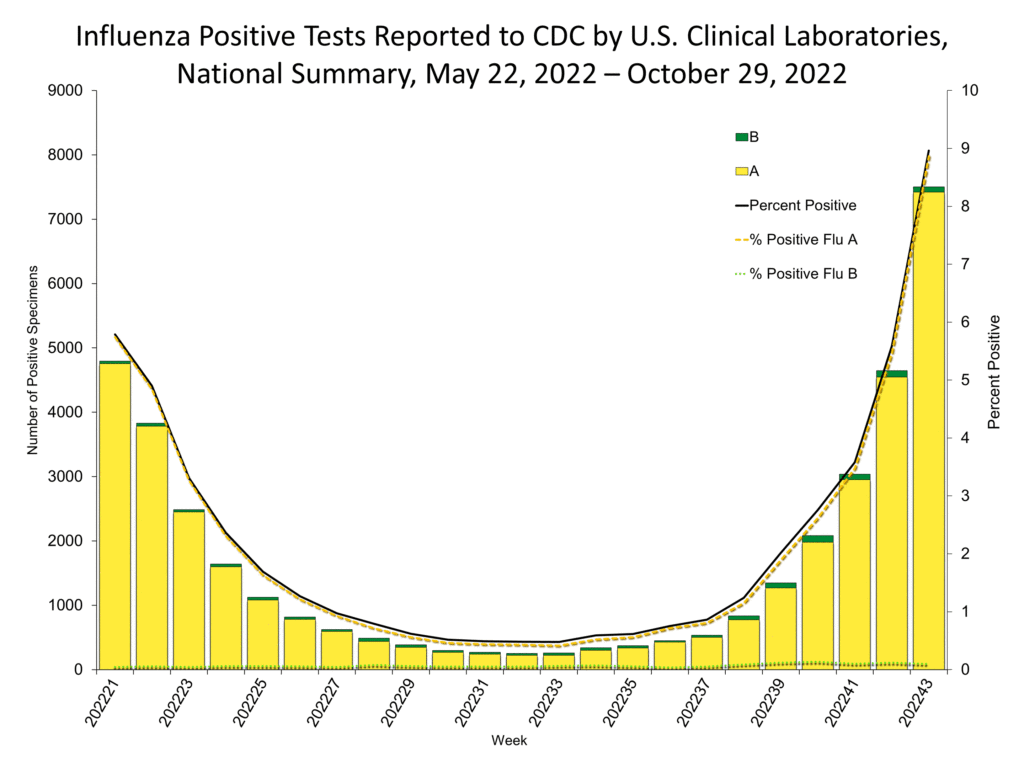 And it's not just the flu. Cases of respiratory syncytial virus (RSV) are sending more children to the hospital than ever, packing the pediatric units to the point that many states have few or no pediatric beds available. While both children and adults can contract RSV—and most people do multiple times throughout their lifetimes—children are more likely to become seriously ill. Experts warn that one reason for the raise in severity could the fact that even mild cases of COVID seem to weaken the immune system, leaving you vulnerable to infections like RSV and influenza.
COVID-19 cases have been rising since the Thanksgiving holiday. "I see patients in my office every day and I can tell you firsthand. This year's flu season is off to a rough start," said Sandra Fryhofer, MD, an internal medicine specialist at Emory University School of Medicine during the Dec 5 briefing. "Flu is here. It started early and with COVID and RSV, also circulating it's a perfect storm for a terrible holiday season."
Pharmacies have been running out of antiviral and antibiotic drugs. The FDA is working to increase availability.
Researchers are working to develop a vaccine for RSV, but in the meantime, there is a shot that can help protect you and your family from influenza. Here's what to know about it.
Keep Up to Date on Influenza Spread
The Centers for Disease Control post weekly updates on the spread of the flu throughout the season. You can find the weekly FluView updates here.
We are still early in this year's flu season. As of the end of October 2022, about 1.6 million patients have likely contracted the flu. 13,000 have been hospitalized and 730 have died. Two of those who died were children. The hospitalization rate seen at this point in the season is the highest since the 2010-2011 season.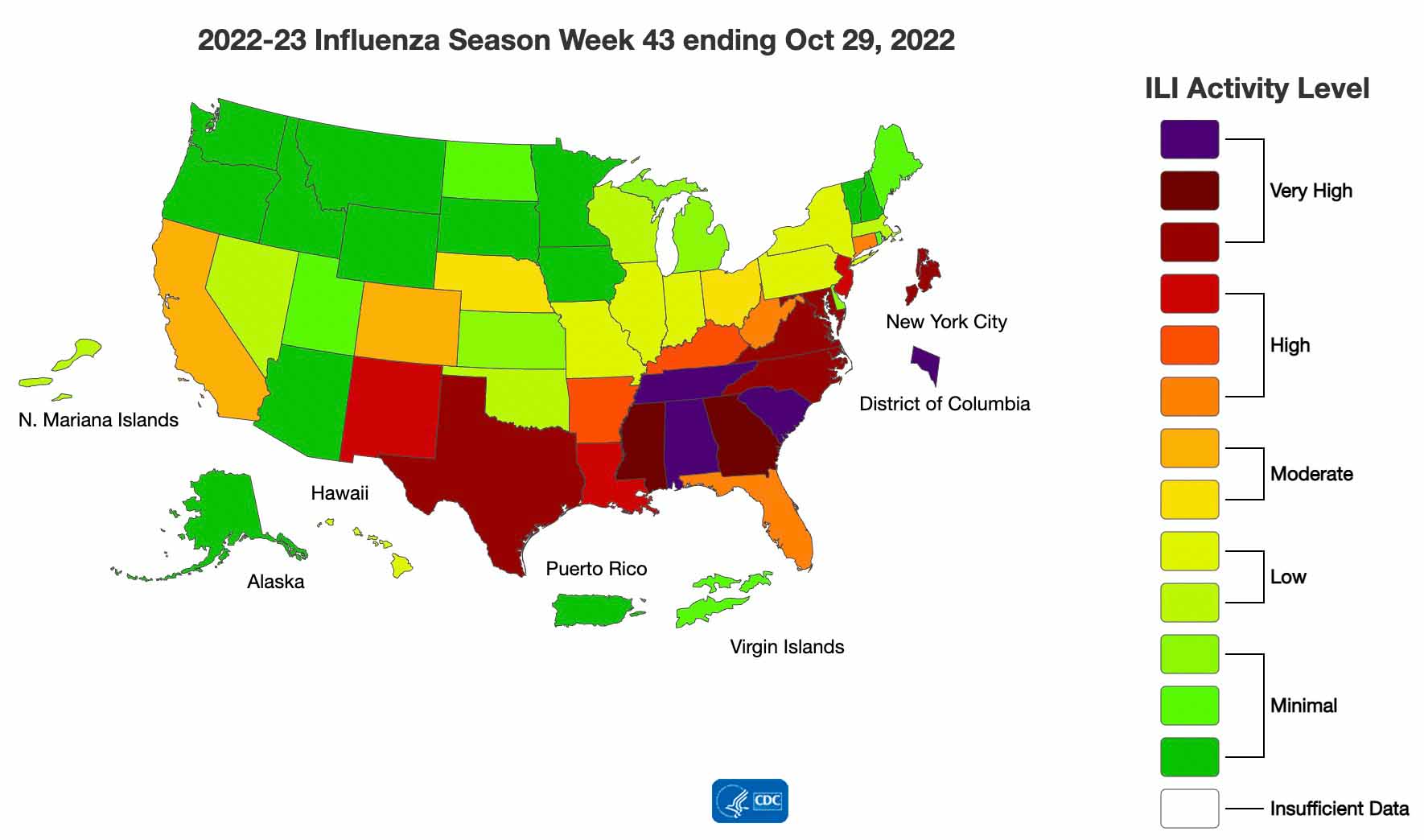 Benefits of the Flu Vaccine
Even though the flu shot is not a perfect vaccine and offers only 40% to 60% protection from infection, it can provide enormous benefits.
Scientists say that that's enough to minimize the disease's spread throughout the population. If you do contract the disease, having had the vaccination may render any flu you do contract less severe, preventing the most serious complications, like pneumonia and even death. In 2019, between 24,000 and 62,000 Americans died from the flu and between 410,000 and 740,000 were hospitalized because of it. Flu is rarely listed as cause of death on death certificates. Instead, the cause is more often called pneumonia or another affliction the flu can lead to.
It's important to keep in mind that while the flu vaccine can help protect you from influenza, it cannot protect you from COVID or RSV. You should continue to take steps to keep yourself and your family safe from other viruses.
What's In a Flu Shot
To come up with a new flu vaccine each year, researchers make educated guesses as to which strains of flu are most likely to cause the illness based on what circulated the previous year.
"They can never know exactly which strains are going to happen. Each flu shot that we get has at least three or four strains of flu from the preceding season," says Daren Wu, MD, chief medical officer at Open Door Family Medical Center in New York City. For 2022, the vaccine targets four strains: two strains of influenza A and two strains of influenza B.
The main ingredients in influenza vaccines are either dead or weakened flu viruses. These viruses cannot replicate and wreak havoc on your body like a normal flu virus, but their purpose is to prompt your immune system to mount an immune response. This response prepares your body to recognize and respond faster if it does encounter the actual influenza virus later in the season.
Is This Year's Flu Shot a Good Match?
So far, Fryhofer explains that the data that's been collected so far suggests that this year's vaccine is a good match for the circulating flu variants, but that they'll have more definitive information later in the season. Still, she emphasized "even an imperfect matching season, we see 35% decrease rates of hospitalization," in those who have been vaccinated against the flu.
The Flu Shot's Possible Side Effects
The flu vaccine can cause side effects, which, while generally not dangerous, can mimic the types of symptoms you might get from a mild influenza infection. "Once in a while, people have very uncomfortable reactions. Your body aches, [you can experience] chills, headaches. I've had those at least twice in the last 20 years of getting flu shots since I became a doctor. And I felt terrible," says Wu.
It is concerns about side effects that a third of parents cited as the reason for not having their children receive the flu vaccine, according to a survey.
"In the process of mounting that immune response, making the antibodies to be able to battle the real flu, people can feel terrible because it feels like you're fighting off the flu" Wu says. He adds, "It's a one, two-day reaction that's completely different from actually getting the flu, which is a seven-day or more process. One is an immune reaction that is temporary, and the other is you are infected."
Aside from brief, flu-like symptoms lasting a day or two, patients also report pain or soreness at the injection site. Wu says this reaction is common. He recommends keeping the arm moving to alleviate the pain. If the pain is acute, Wu suggests you taking Tylenol, Advil or Motrin. He cautions, however, that you should only do so if you feel very sick, because it can interfere with the immune system response to the flu shot, which lowers the effectiveness of the flu shot.
Lastly, there are some other possible side effects, depending on the type of vaccine you get. Most vaccines do not contain thimerosal, a preservative that was once considered controversial, but has since been shown to be safe in vaccines. It does, however, contain egg, which can be a problem for patients with severe egg allergies.
If you or your child has such an allergy, know that most doctors and pharmacists stock a few eggless vaccines, says Wu. These vaccines, known as cell culture vaccines, are made using animal cells and recombinant vaccines that are synthetic and don't have egg products.
Seniors should get the higher-dose vaccines, which were designed for patients over age 65 to ensure their immune systems respond adequately.
For those who can't tolerate needles, there are nasal spray flu vaccines.
Flu Shots for Pregnant People
During the Dec 5 briefing, experts emphasized that both the flu shots and COVID-19 vaccinations are safe for people who are pregnant and their fetuses. For the first time, the CDC included pregnant people in its list of those who are at highest risk of severe complications from the flu.
They also pointed out that the shots can protect both mother and baby. "Mom getting her flu shot protects baby during those first few months of life when the baby's too young to be vaccinated."
To find out where you can get your flu vaccine, check out this vaccine finder.